Musician Training Center
Highly effective software courses and training
tools to help you become an awesome musician
Scales + Chords + Precision + Speed + Groove + Sight-reading + Ear training + Improvisation + Musician Training Center (your secret sauce) —————————————————————————————————————————————— = The most awesome musician you can become
Improvisation By Degrees
Improvisation By Degrees (IBD) is a training course for developing your musical improvisation skills.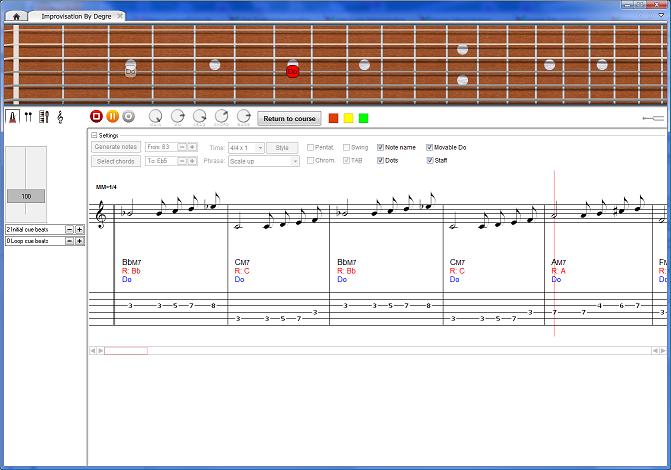 The goal of the Improvisation By Degrees course is to help you become an awesome improviser, by taking you through a progression of exercises that will gradually develop your skills at improvising on chords.
The improvisation skills that you'll develop with IBD are universal. Whether you're into jazz, rock, blues, metal, or any other genre that involves improvising over chords, this course can do a lot for you.
The Improvisation By Degrees method is for all instruments. Whether you play guitar, piano, bass, sax, or anything else -- the course will train you both in general principles and practically in the specific notes range of your own instrument.
If you are interested in developing your improvisation skills and you haven't seen IBD yet, there is only one thing you should do: try it out immediately!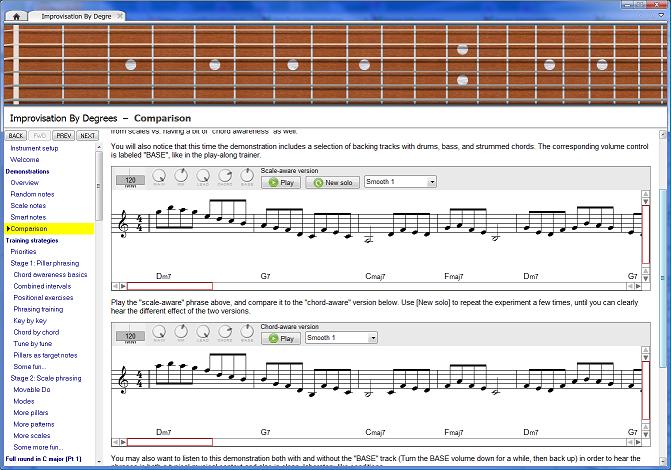 How to try it out for yourself
Improvisation By Degrees is included in the Musician Training Center (MTC) program. Windows and Mac versions are available. Install MTC, then click on [Courses] and double-click on "Improvisation By Degrees" to start it.
Download Musician Training Center for Windows or Mac OSX
If you have any question, write to support@micrologus.com
Enjoy!
Order
You can buy Improvisation By Degrees online here: IBD order page